---
LOLC Holdings becomes most valuable corporate on CSE, surpassing market cap of JKH
LOLC Deputy Chairman becomes first and only person in SL to hold listed stocks valued over US $ 1bn
CSE continues its bull run; market cap reaches new highs; turnover tops Rs.14bn
Two other Dhammika Perera-controlled firms announce share splits after Hayleys group companies
The Colombo Stock Exchange (CSE) yesterday saw a changing of the guard with the diversified LOLC Holdings dethroning the long-time top dog John Keells Holdings PLC (JKH) as the most valuable listed entity on the CSE.
As at yesterday's market close, LOLC's market capitalisation stood at Rs.247.7 billion, higher than the Rs.225.8 billion market capitalisation of JKH. LOLC's market cap accounted for 6.44 percent of the total market capitalisation.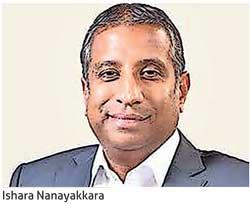 As of yesterday, Ceylon Tobacco Company PLC had the third highest market capitalisation on the CSE.
On Tuesday, LOLC joined the billion-dollar club, becoming the third company on the CSE with a market capitalisation exceeding US $ 1 billion, as per the current exchange rate.

The LOLC share yesterday rose by Rs.104 or almost 25 percent to close at Rs.521.25, while the JKH share fell by Rs.1.50 or 0.87 percent to close at Rs.171.25 percent. LOLC Deputy Chairman Ishara Nanayakkara owns nearly 80 percent of the issued shares of the company, which makes him the first and only person in Sri Lanka to hold listed stocks valued over US $ 1 billion, at the current exchange rate.

Meanwhile, the CSE continued its bull run unabated with both indices closing in the green. The benchmark All Share Price Index (ASPI) gained 146 points to close at 8,812 points while the more liquid S&P SL20 index gained 1.28 points to close at 3,505 points.

The day's turnover was Rs.14.4 billion. According to NDB Securities, this was the fifth consecutive day where the CSE's turnover exceeded Rs.10 billion. The year-to-date (YTD) daily average turnover as of yesterday stood over Rs.10 billion, while the YTD consolidated turnover as of yesterday was Rs.172 billion, compared to Rs.171 billion for the whole of 2019 and Rs.396.9 billion for the whole of 2020.
Meanwhile, the CSE's market capitalisation reached a new high of Rs.3.85 trillion yesterday. The YTD gain of the ASPI as of yesterday was 30.08 percent and the same for S&P SL20 was 32.87 percent. However, foreign investors continued their selling spree of Lankan stocks yesterday as well and the total YTD net foreign outflow as of yesterday was Rs.6.18 billion. Last year, foreigners net sold over Rs.50 billion worth of stocks.

According to NDB Stockbrokers, price gains in counters such as LOLC Holdings, Vallibel One and LB Finance helped the ASPI to close in green yesterday.

"High-net-worth and institutional investor participation was noted in LB Finance and C T Holdings. Mixed interest was observed in John Keells Holdings, Royal Ceramics and Browns Investments, whilst retail interest was noted in LOLC Holdings, Vallibel One," NDB Securities said.

Meanwhile, after announcing share splits for over a dozen of Hayleys group companies, two other Perera-controlled companies—LB Finance and Sampath Bank—announced share sub-divisions yesterday.

A share split does not essentially have a positive impact on the net asset value of a company but lowers share prices and an increased number of shares can make the shares of a company more liquid.
---
World's best stock rally is in Sri Lanka
Benchmark equity gauge rises 30 percent, beating all major markets
Abundant global liquidity, rate cuts have helped rally: Robeco
BLOOMBERG: Sri Lanka stocks have returned a world-beating 30 percent so far in 2021 as domestic investors get more active. Local traders have bought a gross Rs.155 billion (US $ 802 million) worth of equities this month through Tuesday -- already 45 percent of the total domestic purchases last year, according to data from the Colombo Stock Exchange. That's as overseas investors continue to exit the market, dumping a net US $ 25 million of shares in January on top of the US $ 273 million sold in 2020, data compiled by Bloomberg showed.

"As the pandemic rebound got underway, abundance of global liquidity, substantial rate cuts and domestic retail participation have helped fuel the rally," Joshua Crabb, a Hong Kong-based money manager at Robeco, said in an interview.
"Keep in mind the currency has also weakened, which makes exports more competitive, encourages tourism and introduces inflation, which helps nominal assets like equities."

he March selloff saw the CSE All Share Index plunge 32 percent as a dearth in tourism, increased political uncertainty and concerns about debt sustainability weighed on risk appetite. Since then, the Central Bank cut its key rate by 200 basis points and provided liquidity, helping the island nation beat a recession.

The country has even reopened its airports for international tourism. Equities have now more than doubled to records from their 2020 lows and trading volume on the Colombo Stock Exchange hit a record US $ 77 million this week. The equity benchmark rose as much as 2.3 percent Wednesday.

Progress in accessing COVID-19 vaccines has also provided a tailwind. Sri Lanka approved the Oxford University-AstraZeneca PLC vaccine for emergency use last week after a surge in cases since October. Some 500,000 doses are scheduled to arrive from India on January 28, the government said.

It's encouraging to see Sri Lanka taking action on the vaccine front but developments still need to be monitored, Robeco's Crabb said. After the rapid rally, he says stocks may be due for a pause.

"In the near term, I would expect the market to consolidate its gains," he said.

"At current valuations, we really need to see an improvement in the economy and in company earnings to see another leg up."