---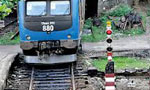 A 35-year-old woman was killed and a one-and-a-half-year-old infant was injured when the woman was hit by a train at Pilimatalwa, Kandy this morning Police said.
The woman carrying the child allegedly jumped in front of the Colombo bound train from Badulla.
Police said the infant was admitted to the Peradeniya Hospital.