---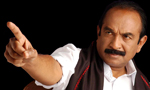 MDMK general secretary Vaiko has intensified his tirade against Prime Minister Narandra Modi and the BJP leadership for their open support to Sri Lankan President Mahinda Rajapaksa.
Speaking to reporters here on Sunday, Mr. Vaiko condemned the Prime Minister for his speech favouring re-election of Mr. Rajapaksa as President of Sri Lanka for a third term, in an international forum like the SAARC summit. "By doing so, Mr. Modi has exceeded his diplomatic limits," Mr. Vaiko said, adding that even former Prime Ministers A.B. Vajpayee, Manmohan Singh, V. P. Singh, H.D. Deve Gowda and S. Chandrasekar had never made such remarks.
Quoting BJP leaders Subramanian Swamy's demand for conferring the Bharat Ratna on Mr. Rajapaksa, he quipped that the BJP leaders could demand the award for Nathuram Vinayak Godse posthumously. Dr. Swamy's demand had not been condemned by BJP president Amit Shah.
Regarding BJP national secretary H. Raja's threat to him, Mr. Vaiko said he had warned the MDMK cadre against indulging in any protest. If anybody acted against this warning, action would be taken.
Mr. Vaiko said that he had criticised Congress leaders, Janata Party leaders and former Prime Ministers Morarji Desai, Indira Gandhi, Rajiv Gandhi, Manmohan Singh and Sonia Gandhi, but it was never on personal lines. On no occasion did political parties, including the Congress, the DMK and the AIADMK, threaten him.
Ridiculing Dr. Swamy's statement that the MDMK cadre should be arrested before they laid a siege to Mr. Raja's residence in Karaikudi or otherwise he would get the bail granted to AIADMK supremo Jayalalithaa in the disproportionate assets case cancelled, Mr. Vaiko said, "I do not understand the connection between the MDMK protest and Ms. Jayalalithaa's bail. It amounts to blackmailing the AIADMK government."
Keywords: NDA, NDA in Tamil Nadu, strained relationships, MDMK-BJP relations, H. Raja, Vaiko outbursts, Modi-Rajapaksa meeting.(The Hindu)