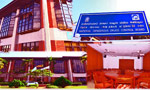 The tug-of-war for post of National Dangerous Drugs Control Board (NDDCB) Chairman is continuing without a proper solution with newly appointed Chairman former DIG Sirisena Herath being unable to assume duties because incumbent Chairman Nilanga Samarasinghe is refusing to vacate his post.
Dr. Samarasinghe said he had not received any instructions either in writing or orally regarding the appointment of a new chairman and as such would continue to function in the post. He said he would continue in his post claiming he had been instructed by Prime Minister Ranil Wickremesinghe to do so.
"I carried out a massive campaign against illegal drugs and narcotics for more than ten years and racketeers are now up in arms against me. Former DIG Sirisena Herath has been appointed as Chairman creating a crisis when I was away from the country to attend an international conference. Law and Order Ministry Secretary Jagath Wijeweera had clearly misused his powers by making this appointment," he said.
Former DIG Herath who was appointed Chairman last Thursday, rejected claims by its incumbent Chairman Samarasinghe that he had not been informed beforehand about the appointment of the new Chairman.
Mr. Herath said he was appointed on the approval of both the President and the Prime Minister and that Ministry Secretary had informed Dr. Samarasinghe in a fax that a new chairman was being appointed on October 5. He said the secretary had also noted his appreciation on the contribution made by Dr. Samarasinghe to the NDDCB.
"The government requested me for a CV and I sent one to the Prime Minister's office. Prime Minister's secretary had referred the CV to a committee which appoints heads to departments and boards. Even the Law and Order Minister had recommended my CV to this committee. Later on President's Secretary had instructed Law and Order Ministry Secretary to appoint me as the Chairman on the President's approval," he said.
He said he hoped the matter would be resolved at the special Cabinet meeting held last morning. However, Minister Gayantha Karunathilaka said the Cabinet had discussed the matter but no final decision was taken.
(Lahiru Pothmulla and Sanara Ariyatileka)