---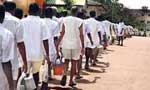 Prisons Commissioner Rohana Pushpakumara said today they were considering to introduce a new dress, a T-shirt and a track bottom to the prisoners when they engage in physical training activities during rehabilitation programmes.
Mr. Pushpakumara said the decision was taken as the prisoners find it difficult to engage in physical training with the traditional dress jumper worn by them.
"We have discussed the possibility of changing the prison uniform when the prisoners engage in physical training activities as it is uncomfortable for them. They will be provided with a T-shirt, a bottom and a pair of canvass shoes to be worn during physical training activities," he said.
Mr. Pushpakumara said they had decided to begin physical training programmes at open prisons in the future too.
He said a special dress has already been introduced to the prisoners who were employed at prison head office so that they look pleasant to outsiders.
(Ajith Siriwardana)