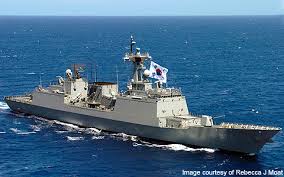 A Naval ship of the Republic of Korea, "ROKS Chungmugong Yisunshin", today called at the Colombo Port after conducting five-months of counter piracy operations off the coast of Somalia and Gulf of Aden.
The Embassy of the Republic of Korea said the ship arrived on a three-day goodwill and replenishment visit.
Commander Yoo Jae Man and Republic of Korea Naval Escort Task Group 19th were welcomed by the Korean expatriates in Sri Lanka and the Sri Lanka Navy in accordance with naval customs on its arrival.
The Naval Escort Task Group 19th held an open ship tour and luncheon onboard for the Korean expatriates, who participated in the welcoming ceremony.
The Commander and the ship's Staff Officers also paid a courtesy call on Commander of Sri Lanka Navy, Vice Admiral Ravindra C. Wijegunaratne and Commander, Western Naval Area, Rear Admiral Jayantha De Silva at the Naval Headquarters.
The courtesy call was made for the purpose of further strengthening military cooperation between the two countries, the Embassy said.
During their stay in Colombo, several crew members of ROKS Chungmugong Yisunshin will donate 1,000 pairs of shoes to local needy children in child welfare centres, including Samandhi Child Development Centre of the Korea-Sri Lanka Culture and Social Welfare Foundation.
This port call is the second visit to Sri Lanka made by the Naval Escort Task Groups, and the fifth by the Republic of Navy since the Cruise Training Task Group first visited in 2009.
ROKS Chungmugong Yisunshin will sail from the Port of Colombo on Saturday, December 5 for its homeward journey.