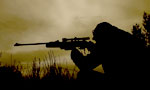 The 27-year-old Sri Lankan who was arrested on charges of conspiring to assassinate President Abdulla Yameen Abdul Gayoom with firearms was hired by some Maldivians to execute the operation, the Maldivian Police said in a statement.
Investigations into the arrest are still ongoing under the surveillance of the Maldives Police Service in close collaboration with the Sri Lankan Police Force.
In a raid carried out last week, the Maldivian Police and the Maldivian National Defence Force had uncovered a large hoard of explosives and weapons including automatic weapons concealed underwater off an uninhabited island in the Maldives.
An AK T56 rifle with 126 bullets, a MP5 submachine with 43 bullets, two hand grenades, improvised explosive devices void of an initiation system, a sniper riflescope and primers were discovered during the raid in addition to a number of other weapons.
The Maldivian High Commission in a recent statement said the Maldivian Ahmed Ashraf was declared a wanted person by the Maldivian Police and was arrested by the Sri Lankan Police on a request made to them by the Maldivian Government.
The Maldivian was arrested and deported to the Maldives by the Sri Lanka authorities on November 2. It was also revealed that the suspect was not in possession of valid travel documents at the time the arrest had taken place.
The Maldivian High Commission said as law enforcement agencies, the Maldivian Police and the Sri Lankan Police have maintained an excellent relationship with mutual understanding that is beneficial to both countries.
It said the Memorandum of Understanding that was signed on January 22, 2014 between the Sri Lankan Police Force and the Maldivian Police Service had fostered and streamlined better cooperation between both countries, especially in areas of law enforcement which includes the arrests made on individuals suspected of terrorism offences.
"Sri Lanka suffered from the menace of terrorism for nearly three decades, and during that time, one frustration was that many countries harboured fugitives who had links with terrorist activities in Sri Lanka. The Maldives has always extended maximum cooperation to the Sri Lankan Government in apprehending individuals suspected of involvement in, or have links to, terrorist activities in Sri Lanka," the High Commission said.
(Sarah Muiz)