---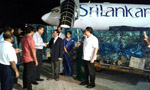 The Government of Sri Lanka has commenced the delivery of drinking water to Maldives with effect from last evening, soon after a state of emergency was declared in the island nation due to a shortage of water.
The initial consignment of 5.8 metric tonnes of bottled water had been delivered to the capital of Malé on a SriLankan Airlines flight last evening. It had been handed over by Sri Lanka's High Commissioner to Maldives, Neil Dias to the Maldivian Minister of Defense and National Security, Col. (Rtd.) Mohamed Nazim.
Accepting the emergency relief, Minister Nazim had thanked President Rajapaksa and the people of Sri Lanka for the timely action.
Meanwhile, the Ministry of External Affairs in collaboration with the national carrier- SriLankan Airlines has made arrangements to send over 100,000 bottles of mineral water to the Maldives within the next couple of days. The water is to be distributed among the residents of Malé free of charge and the GoSL has also offered additional assistance to address the situation if necessary.
Due a fire that broke out in Malé's only water purification plant on Thursday; the water supply to the city was disrupted, which prompted the authorities to declare a disaster situation. Malé is one of the most densely populated cities in the world and is home to over 100,000 people.