---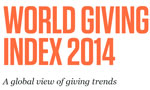 Sri Lanka ranked ninth place at the 2014 World Giving Index (WGI) compiled by the Charities Aid Foundation (CAF) which looks at charitable behaviours of countries including the tendency of helping strangers, donating money and volunteering.

The United Kingdom based Foundation's Giving Index had covered 135 countries based on more than a million interviews conducted by Gallup since 2005/06, as part of their World Poll survey.

Both the United States and Myanmar ranked as the most generous countries in the world with Canada ranking at third place, Ireland at fourth and New Zealand at fifth place.

The next five most generous countries were Australia, Malaysia and the United Kingdom, Sri Lanka and Trinidad and Tobago respectively.

Sri Lanka's neighbours like India had ranked at 69, Pakistan at 61, Bangladesh at 72 with Afghanistan ranking at 79 and Nepal at 44 in the index.

The index report highlighted that Theravada Buddhism in countries like Myanmar and Sri Lanka had influenced and encouraged charity among the societies.

"Nine out of ten people in Myanmar follow the Theravada Buddhism. The lives of the Sangha are supported by dana (charitable giving) by lay followers of the religion. Sri Lanka is also another country with a strong Theravada Buddhist community," says the report.

Sri Lanka also ranked third at the sub index of participation in volunteering, 7th at donating money and 40th at helping strangers.

WGI data over the period of 2006-2013 in Sri Lanka reflects that the end of the civil war had made an impact of giving and the country's all types of giving had increased by at least eight per cent.

Yemen ranked as the least generous country at the index. Venezuela ranked at 134, Palestine at 133 and Ecuador at 132 . (Lahiru Pothmulla)