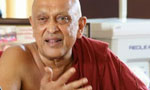 The Satyagraha of the National Movement for Social Justice which was scheduled to be held at Independence Square today was called off following the assurance given by President Maithripala Sirisena that the 19th Amendment to the Constitution would be enacted.
The National Movement for Social Justice, headed by Ven. Maduluwawe Sobitha Thera earlier said that it would hold a Satyagraha at Independence Square urging the enactment of the 19th Amendment.
However, the Thera along with many other clergies and politicians took part in the protest march organized by the Collective of Citizen's Organisations.
Movement's Spokesman Ravi Jayawardane said that a representative of the President had delivered a message to the Thera during the march on behalf of the President assuring the enactment of the 19th Amendment.
"The President assured that there will be no obstacle to pass the Amendment and requested the Satyagraha be called off considering the health condition of Ven. Sobitha Thera. Therefore, the Satyagraha was called off and we held a symbolical Satyagraha near the Polduwa Bridge in Battaramulla before dispersing," Mr. Jayawardane said.
He said that they were optimistic about the assurance and would decide on launching future demonstrations depending on the enactment of the Amendment.
(LSP)