---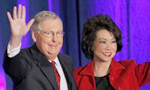 Republicans rolled up big victories on Tuesday and seized control of the U.S. Senate in midterm elections that tipped the balance of power away from President Barack Obama and will complicate his remaining two years in office.
Voters unhappy with Obama, worried about the economy and weary of partisan gridlock in Washington gave Republicans a majority in both chambers of Congress for the first time since elections in 2006.
Iowa Republican Joni Ernst won her race over Democrat Bruce Braley and Republican Thom Tillis defeated incumbent Democratic Senator Kay Hagan in North Carolina, giving Republicans seven pickups from Democrats. They had needed six net gains to control the 100-member Senate.
Republican Senate candidates also picked up Democratic seats in Montana, Colorado, West Virginia, South Dakota and Arkansas.
The Republican takeover of the Senate in January will force Obama to scale back his legislative agenda and limit his ambitions to either executive actions that do not require legislative approval, or items that might gain bipartisan support, such as trade agreements and tax reform.
But Republicans, hoping to win the White House in 2016, will also be under pressure to show Americans they are capable of governing after drawing scorn a year ago for shutting down the government in a budget fight. (Reuters)