---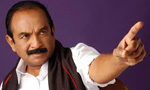 MDMK general secretary Vaiko said on Monday that the reasons cited for extending the ban on the LTTE were not valid.
He was making a presentation before the Justice G.P. Mittal-led Special Tribunal constituted by the Delhi High Court under the Unlawful Activities Prevention Act to look into the ban.
He said the LTTE demanded the creation of Eelam by merging Sri Lanka's north and eastern parts, the traditional homeland of the Tamils. At no point of time did it lay claim to any part of India.
As Anil Soni, standing counsel for the Central government, said Mr. Vaiko was playing to the gallery instead of confining himself to matters relating to the ban, the MDMK leader argued that it was necessary to go to the root of the problem to prove the LTTE wanted only the northern and eastern parts of Sri Lanka, and not even an inch of Tamil Nadu. He wondered how a resolution in favour of Sri Lankan Tamils could have been passed in the Tamil Nadu Assembly if any area of the State formed part of Eelam.
He said there was nothing wrong in LTTE sympathisers seeking the support of Tamils living worldwide for the organisation. However, only in India were they being criticised.
Earlier, Velavan, Inspector of Police, Chennai, referred to the arrest of six persons in Chennai in 2012 and said improvised electronic devices, circuit diagrams and a map of India were recovered from them.
Interrogation revealed they were regrouping LTTE cadre. If the ban was lifted, VVIPs would be exposed to risk, he said, and the notification extending the ban should be upheld. (The Hindu)