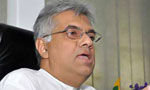 In the wake of a disclosure that the former Foreign Affairs Ministry had paid US$ 354,000 to a US company for various activities including payments being made to US congressmen, Prime Minister Ranil Wickremasinghe told Parliament that an investigation would be conducted on this matter.
He said the Sri Lankan Government would inform the US Government because it would be a serious violation of that country's laws if the congressmen had accepted these monies.
"US congressmen cannot even dine with a guest without informing the authorities and if the congressmen had accepted the funds it is a serious violation," Mr. Wickremesinghe said.
The disclosure was made by Foreign Affairs Deputy Minister AjithPerera in response to a question asked by JanathaVimukthi Peramuna (JVP) Leader Anura Kumara Dissanayake in the House this morning.
Mr. Perera said it was not clear whether the funds were paid to the congressmen or whether the ministry handed over the funds to the PR Company though records show the funds were paid.
Mr. Dissanayake asked whether the then government had attempted to bribe the congressmen.
It was revealed that the Rajapaksa Government has paid US$840,000 to Patton Boggs Ltd and US$45,000 to Cranford Johnson Robinson PR, US$ 49,106 to Steve Hedges and US$354,000 to Majority Group LLC from 2010 to 2012.
(Yohan Perera and Kelum Bandara)