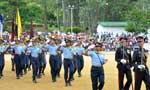 School children in the Western Province from Grade 8 and above would be given cadet training from next year to improve discipline and skills among them, Western Province Chief Minister Isuru Dewapriya said yesterday.
Commenting on a series of measures to be taken in the New Year in the Western Province to develop education, Chief Minister Dewapriya said there have been discrepancies and discriminations against Provincial Councils, when State funds were allocated by the Central Government.
"We have taken steps to fill 1,600 teacher vacancies in the Western Province by next year and a majority of them are graduates. When you compare the amount of fund allocated to 356 National Schools managed by the Central Government and nearly 10,000 schools that come under Provincial Councils, you yourself can realise the discrimination," he said.
Mr. Dewapriya said not only the students but school Principals too would be given leadership training as the discipline in the National School system was in low ebb.
A strict set of health regulations would be introduced to eateries, hotels, restaurants, tea shops and canteens in the Western Province as majority of them were run under highly unhygienic environment and foods served and stored were also unclean and unhealthy, he charged.
"All of them will be given six months to make their commercial establishments clean and hygienic. Not only the foods and drinks served must be clean and hygienic, the employees served there must be clean and tidy. New regulations will be introduced to make sure they follow the guidelines. Those who fail to adhere to the new set up will have to close down their establishments or face legal action," he said.
He said a modern solid waste disposal project would be launched in Colombo with the assistance of Japan to solve perennial solid waste disposal problem in the city.
The project envisages constructing a 10 MWs power plant using solid waste as source of energy.
Uva UPFA Parliamentarian Lakshman Seneviratne said the new government had been able to change the negative attitude of the West and the good relations had improved Sri Lanka's position among the global community.
(Sandun A Jayasekera)