---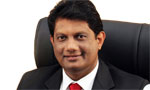 Former Chairman of the Securities and Exchange Commission of Sri Lanka, Dr. Nalaka Godahewa arrived at the Police Financial Crimes Investigation Division (FCID) this morning.
Dr. Godahewa is to give a statement over his alleged involvement in transferring Rs.5 million from the SEC to the 'Tharunyata Hetak' youth programme.
Even though Dr. Godahewa was summoned to appear before the FCID on Saturday, his lawyers had requested another date.
The former deputy director of the SEC, Dammika Manjira Perera and former director Ronnie Ibrahim were arrested by the FCID on Friday evening over their alleged involvement in the transfer of the money.