---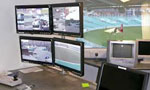 Nearly 1,500 police personnel will be deployed for the upcoming one-day international cricket match between India and Sri Lanka at the Rajiv Gandhi International Stadium in Uppal on Sunday. Cyberabad police said 56 cameras would be installed in and around the stadium and a command control room will also be set up to monitor all the CCTV footage.
"Spectators will not be allowed to carry bags, banners, cell phones, cameras, binoculars, match boxes, lights, helmets, cigarettes, perfumes, eatables or even water bottles into the stadium," the police said in a press release. Separate teams will be deployed to check anti-social elements. Apart from that, a Quick Response Team (QRT) and Octopus commandos will be in place to meet any emergency.
In view of the ongoing metro rail works, spectators will not be allowed to park their vehicles on either sides of the main road from Genpact to Uppal Ring Road. On the traffic front, heavy vehicles coming from LB Nagar and Warangal will not be allowed to pass towards Habsiguda and instead would be diverted at Uppal X roads to pass through Chengicherla X roads (Warangal route) to reach Mallapur bridge.
Heavy vehicles coming from ECIL, Kushaiguda and Cherlapally towards Uppal X roads will be diverted via Mallapur Bridge, Chengicherla X (Warangal route) and LB Nagar junctions. The above restrictions will be in force on the match day. Telangana chief minister K Chandrasekhar Rao is expected to attend the inaugural ceremony of the match. (Times Of India)