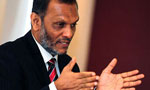 In a statement to clear any misunderstanding that the Sri Lankan mission in the Kingdom was not involved in seeking clemency for the Sri Lankan maid, who was recently spared from being sentenced to death for adultery, Azmi Thassim, Sri Lankan Ambassador to the Kingdom, said that the Lankan embassy in Riyadh played a major role in the appeal.
"I'm very sorry if someone is not appreciating the Sri Lankan mission in Riyadh and the Sri Lankan government due to the tremendous support and efforts they put to seek clemency for the victim of the adultery case," he said.
Thassim slammed the negativity and racist comments on social media platforms, describing them as "malicious." He said that it is important that situations as such need to be handled in a responsible manner. "I praise the media who played a very responsible role in this instance and the majority who supported this and safeguarded the identity and dignity of the victims."
Saudi authorities reduced the 45-year-old Sri Lankan maid's death sentence to a three-year jail term after an appeal, Colombo's foreign ministry confirmed.
The ambassador expressed his respect, gratitude and appreciation to the embassy officials in Riyadh who undertook the case with responsibility and assisted from the time they heard about the case till the death penalty was lifted.
He added that all the procedures were completed by the embassy officials, despite it being tough and costly, before he arrived in Riyadh as ambassador.
"I also thank the Sri Lankan government for having done a great job in providing assistance and guidance to the embassy whenever they needed it, especially to retain lawyers."
Thassim lauded the Saudi judiciary and authorities for their considerate judgment given to the Sri Lankan maid. "We are very happy that the judges received the case well and unanimously decided to do away with the stoning to death," he said. "There were several hearings held before the first judgment was given rather than simply implementing a verdict. The case was re-opened after several observations of the appeal and the victims were given an opportunity to explain and express themselves — to which they confessed to being under severe pressure at the time."
Explaining the measures taken by the Sri Lankan mission in the Kingdom to avoid such errors in the future, Thassim requested the community and all the media who are focusing on this particular incident and the judgment, to take heed. "We must always take precautions and not wait till something major happens and start blaming and pointing fingers. Instead, we must educate the people as much as possible about the laws of a country."
He pointed out that it is the responsibility of a government and the civil society to educate people about the seriousness of not knowing the rules and regulations and walking into an unknown territory
.(Arab News)