---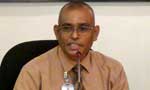 The proposed digital Identity Cards would be the most efficient source of data in future and could be useful when providing information on people in tragic situations like Koslanda landslide, Registration of Persons Department Commissioner General R.M.S Sarath Kumara said.

He said that there was no proper method to provide information on people when there was a disaster in the country.
"The mostly asked questions during a disaster situation like in Koslanda landslide are how many residents were at the place of the incident and how many were affected. Today, we don't have a proper mechanism to provide an answer with an exact number to these questions," he told a news conference today.

He said all the information of an individual including his family members would be added to a Central Data Base in line with the Digital Identity Card system.
"This data base will be useful when providing information of a particular area. When the card number was inserted in to the data base, we will be able to find the details of the individual," he said. (Sanath Desmond & Lahiru Pothmulla)