---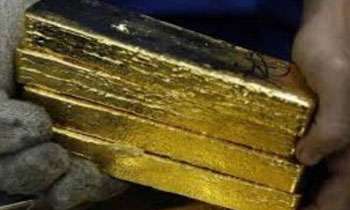 Indian Law Enforcement Authorities today seized 32.249 kg of gold valued at Sri Lankan Rs. 240 million smuggled to Chennai from Sri Lanka through coastal Tamil Nadu.
It was smuggled into India by sea and being transported to Chennai for sale.
Six people were apprehended in connection with the case and all of them in their statements admitted that they purposely transported the smuggled gold to Chennai.
On Tuesday evening, DRI officials kept a strict vigil in the bylanes of Mannady and observed a person on a two-wheeler receiving a heavy suspicious looking package.
The receiver of the contraband was apprehended by the officials. After detailed examination the gold was found to weigh 12.149 kg.
The accused were staying in a budget lodge at Mannady. DRI officials found a lady passenger carrying the smuggled gold and handing it over to another intermediary who had been staying at the lodge.
In an similar incident, DRI conducted a thorough search of a private bus moving from Keelakarai to Chennai, where a person was suspected of carrying smuggled gold. The officials quickly identified him and his baggage and recovered 8.1 kg of gold from him.
In all the operations, a total 32.249 kg of gold was seized and six persons were arrested by DRI under the provisions of the Customs Act.
DRI warned that gold smuggling has been a recurrent issue in South India, and the coastal areas of Tamil Nadu are particularly prone to this illicit activity, due to its geographical proximity to Sri Lanka.
The previous year itself saw DRI Chennai Zonal Unit seizing more than 105 kg of gold smuggled via Sri Lanka through the Tamil Nadu coast.
The areas most vulnerable to smuggling are Tiruchendur, Rameswaram and Vedaranyam.
Apart from the enforcement measures, the DRI has also taken up the issues of smuggling and other customs related matters at the policy level during the 28th Indo-Sri Lanka DG Level talks at New Delhi in February this year.
As a result, both administrations had firmly resolved to combat smuggling. The Sri Lanka Customs and the Sri Lankan Navy have also stepped up efforts to curb smuggling of gold, narcotics, and other contraband.
In April, Sri Lanka increased the rate of import duty of gold to 15 per cent (from the earlier rate of 10 per cent), in an attempted move to curb smuggling. (India Today)