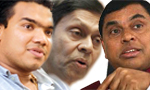 The Janatha Vimukthi Peramuna (JVP) said it would complain to the Bribery Commission tomorrow (13) about alleged financial frauds committed by former UPFA Minister Basil Rajapaksa, parliamentarian Namal Rajapaksa and former Central Bank Governor Ajith Nivard Cabraal.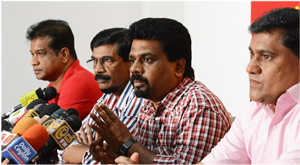 The JVP said it would also complain to the Commission against those involved in the controversial hedging deal.
"Taking legal action according to the law against criminal offences is not seeking vengeance or revenge. We won't allow political revenge to take place. We have all the details, files and evidence to support our claims. We will take action against corrupt personnel regardless of their political affiliation or status," JVP Leader Anura Kumara Dissanayake told a news conference today.
He said they would follow up their complaints to the Commission and observe how the investigations are progressing.
"If the Bribery Commission fails to carry out proper and prompt investigations on complaints as it used to do in the past, we will make sure that the errant commissioners who are delaying investigations be removed from the Commission," Mr. Dissanayake said.
(Darshana Sanjeewa)