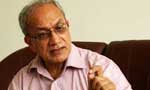 Former JVP Leader Somawansa Amarasinghe today said the party Central Committee had decided four years ago to allocate Rs. 10 million to provide a house for the family of its founder Rohana Wijeweera if they were evicted from the Naval quarters in Welisara.
Commenting on the recent decision to evict Mr. Wijeweera's family, he said this was the second occasion where an eviction letter had been issued.
"The same notice was issued while I was the JVP leader four year ago. The party made a decision back then to allocate Rs. 10 million to provide a new house for the family. The funds should still be there, I hope so. It is good thing if the JVP is willing to take the responsibility of the family. All the JVP is left with today is to implement the party decision. It seems they have enough money to spend for electioneering lately so I believe they have no monetary issues," he said.
Upon receiving the eviction letter four years ago, he said Mr. Wijeweera's family had made a plea to postpone the eviction date, which was obliged.
While claiming that he didn't see the new eviction letter yet, Mr. Samarasinghe, now the Secretary of the Peoples Servants Party said the government should take responsibility of providing security to the family members of late Mr. Wijeweera.
He reminded how Mr. Wijeweera's family handed themselves over to the government on the assurance of providing security following the arrest and assassination of Mr. Wijeweera.
"We can provide the family a new home but still we can't provide the security which is being provided by security forces. I still believe there are threats to Mr. Wijeweera's family members as JVP members who fought against separatism and foreign invasions had not been meted out with justice yet," he said.
Mr. Amarasinghe said he had another solution to solve the issue. "I will reveal it today (22)," he said.
(Lahiru Pothmulla and Indika Sri Aravinda)

WATCH