---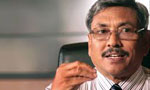 Commenting on the foreign travel restriction imposed on him in connection with the floating armoury of Avant-Garde, former Defence Secretary Gotabaya Rajapaksa yesterday said he had never done anything illegal and always stood by the law.
He said he had already given all the details in connection with the incident to the CID and criticized the impounding of his passport claiming even the probe into the incident was not completed.
"We never left the country regardless what difficulties we had to face. Some people are attempting to portray us as thieves and murderers to the world. But people of this country know what we did and who we are. We never looted public properties. It is unfair to hinder us, who served the country, this way," he said.
Mr. Rajapaksa charged that moves against them were being plotting to gain political advantage and said the image of those behind these moves will be tarnished. "I know that a few officers of the Attorney General's Department are involved in this," he said.
(Sujith Hewajulige)