---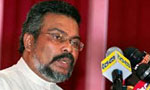 Panadura UC Chairman Nandana Gunatilleka of the United People's Freedom Alliance (UPFA) today denied rumours that he was planning to join the United National Party (UNP) as its Horana organiser.
However, he stressed that he had not changed his stance on the need to abolish the executive presidency, amendments to the electoral system and re-introducing the independent judicial commission, the independent police commission, the independent public services commission and the independent elections commission.
Mr. Gunathilleke said if the government failed to introduce constitutional amendments to meet those demands he would not hesitate to resign from the UPFA and function as an independent member.
"We have made representations to the President on the need to bring about these changes through constitutional amendments but I will not join the UNP under any circumstance and neither did I accept the UNP invitation to attend rally that was held yesterday," he said.
Mr. Guatilleka functioned as the Minister of Tourism before he was elected as Panadura UC Chairman. He had also contested the presidential election in December 1999 as a member of the Janatha Vimukthi Peramuna (JVP). (Siri Mahabellana)