---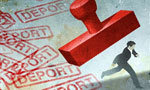 A total of 370 foreign nationals from more than 40 countries, who were living in Sri Lanka defying visa regulations had been deported by the Department of Immigration and Emigration during last year, Immigration officials said.
The department's chief raiding body Monitoring, Intelligence, and Investigation Unit undertook over seven hundred cases involving 728 foreigners that had been living in the country for various reasons.
Amongst the arrested nationals from 45 countries since January 01 to December 31, the highest number of persons that had been removed was from India, which is at 154.
The authorities have also removed 51 Chinese nationals, 47 Pakistani nationals, 33 Nepalese and 25 Thai nationals top the list.
Rest of the foreigners were from Bangladesh, Uzbekistan, South Africa, Philippine, Saudi, Korea, Australia and the UK.
Controller General Immigration and Emigration Nihal Ranasinghe told the Daily Mirror that majority of these removed foreign nationals have violated their visa regulations and were overstaying in the country for numerous purposes.
Chief Immigration Officer Amith S Perera in charge of the Monitoring, Intelligence and Investigation Unit said that they will intensify the detections in the future to seize more foreigners that believed to be overstaying countrywide.(Kurulu Koojana Kariyakarawana)