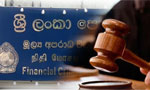 Colombo Additional Magistrate Nishantha Pieris today noticed the FCID to show cause as to why it had violated the court procedure and produced former President's Secretary Lalith Weeratunge and Former TRC Director General Anusha Pelpita in High Court without producing them before a Magistrate.
The Magistrate issued notice on the OIC of the FCID, the DIG and Western Province ASP to show cause on November 5 for violating provisions of the Public Property Act and the Constitution.
The Magistrate also refused to lift the restraining order made against Anusha Palpita from travelling abroad and observed that the FCID had arbitrarily violated the provisions of the Constitution and the Public Property Act.
The Magistrate said the Public Property Act and the Constitution had affirmed that the suspects in Public property Act violation cases should be produced before a Magistrate and if the amount involved exceeds Rs 25,000 the suspects be remanded unless under special circumstances.
Mr. Pieris said the FCID diverting from the practice, had produced the suspects Weeratunge and Pelpita in the High Court which released them on bail.
He queried as to why the suspects were not produced before a Magistrate.
He said the FCID had produced the suspects in High Court and released them on bail. Now the FCID is requesting the Magistrate to lift the travel ban on Pelpita.
The Magistrate said Pelpita was not even present in court and the FCID had not submitted any documents in court which he said was incorrect.
The Magistrate said the action of the police discredited the Magistrate Court.
The Magistrate also emphasized that the Attorney General should assist the police to act according to the law.
On the pronouncement of the Magistrate's decision the legal representatives of the Hulftsdorp Magistrate Court, applauded the decision and Counsel Gunaratne Wanninayake representing the lawyers said the decision was a landmark one and had proved that the judiciary was the guardian of the law implementing the rule of law.
(Farook Thajudeen & Shehan Chamika)