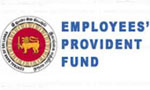 The Committee on Public Accounts (PAC) had observed that the EPF had lost Rs one billion last year through purchasing and selling shares.
The PAC report which was presented in Parliament yesterday by its chairman Minister Sarath Amunugama also revealed that the EPF had not received any income from an investment of Rs 500 million that was made in July 2010 in SriLankan Airlines.
The EPF authorities had informed PAC that these were long term investments and the returns would come after several years.
Also PAC had asked why the fund had failed to gain a profit from another investment of Rs 205.4 million, and the Governor of the Central Bank had informed the committee that fluctuations in the share market were the main reason.
The committee had also inquired about the action taken against a labour officer who had credited Rs 3.6 million of EPF contributions to a personal account. The EPF authorities had informed it that the money had been recovered from the officer concerned.
The committee had also asked the police to expedite investigations into the VAT scam and the Inland Revenue Department had assured them that the funds would be recovered from the persons responsible as they have made a confession.
PAC had also recommended that a representative of the Treasury be appointed to the Board of Directors of SriLankan Airlines as 70 percent of its shares were held by the government.
(Yohan Perera and Kelum Bandara)