---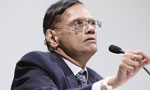 The heads of diplomatic missions in Colombo have been called for a meeting on Wednesday to brief them on what the External Affairs Ministry describes as 'unsatisfactory development' regarding the Investigations on Sri Lanka by the Office of the High Commissioner for Human Rights (OHCHR).

External Affairs Minister G.L. Peiris told Parliament when he took part in the committee stage of the budget debate on the vote of his ministry.
He referred to an incident where a person from the North had collected evidence from people to be sent to the UN in Geneva.

The minister said though the deadline for the submission of evidence had expired there had been instances where evidence was being collected from interested parties through the back door.

Commenting on the lifting of the ban on the LTTE by a European Union Court, he said he had received a report from 17 heads of Sri Lanka's diplomatic missions in Europe on the action to be taken in this regard. The minister said this report had been prepared after engagement with the respective EU countries.

He said there were various options with Sri Lanka requesting these countries to appeal against the General Court ruling lifting the ban on the LTTE on procedural grounds or in the alternative the Government could ask them to enact fresh laws to keep the ban intact.

However, the minister said the government itself would not appeal against this court ruling as it would amount to subjecting the country to the jurisdiction of another country. (KB and YP)