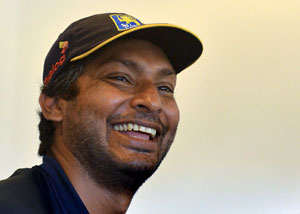 Sri Lanka's batting great Kumar Sangakkara has no regrets about his impending retirement, telling reporters on Tuesday that he felt like a "dinosaur" in the dressing room.
Sangakkara, who turns 38 in October, will end his international career after playing in the first two Tests of the three-match series against India which opens in Galle on Wednesday.
The left-hander, who is Test cricket's leading run-getter among those still playing, said looking at the young teams in Sri Lanka and his English county Surrey made him realise it was time to go.
Sangakkara said 37-year-old Rangana Herath in the Sri Lankan team and Surrey team-mate Gareth Batty, also 37, were the only ones who matched him in age.
"The rest are mostly 26," he said. "I feel like a dinosaur in their company. It convinced me this was the right time to go." Sangakkara, who is fifth in the all-time scorers list headed by India's Sachin Tendulkar, is head and shoulders above other current Test batsmen.
His 12,305 runs and 38 centuries far exceed second-placed Alastair Cook of England, who has 9,223 runs and 27 hundreds.
Sangakkara won't catch up with Tendulkar's tally of 15, 921 Test runs and 51 hundreds, but his 11 scores of 200-plus are just one short of Australian legend Don Bradman's record of 12.
Defying age, Sangakkara has been at his best over the past year. He hammered 203 against New Zealand in January, after making 221 against Pakistan and 319 against Bangladesh last year.
He became the first batsman to hammer four consecutive one-day centuries in the World Cup in Australia in February-March where Sri Lanka entered into the quarter-finals.
Sangakkara, however, looked below-par in the recent home series against Pakistan in June, with scores of 50 and 18 in the first Test, and 34 and a first-ball duck in the second.
He begins the final leg of a remarkable career at one of his favourite venues in Galle, where he made his Test debut in 2000 and also scored the first of his 38 Test centuries -- against India in August, 2001.
Sangakkara justified his decision to play in only two Tests against India, just as he had done against Pakistan in June.
"The reason for the two and two split, even though it is not ideal, was the agreement I had with the previous selection committee when I was discussing my future," he said.
"I had plans to retire immediately after the World Cup, but they wanted me to try and play a bit more Test cricket. Four Tests was all I could offer them and they were okay with that." Sri Lankan captain Angelo Mathews laughed when asked if he will persuade Sangakkara to play the third Test and also whether the series was locked at 1-1.
"If I had my way, I would want him to play for two more years," Mathews said. "But we have to respect his decision and it is now up to the younger players to make a name for themselves." In a recent interview with Cricinfo website's online Cricket Monthly, Sangakkara argued the team is better off rebuilding without him.
"I think in Sri Lanka we have real trouble letting go," he told the website.
"If they want senior players to assist the team, to come and spend some time at training or in the dressing room, all that can be arranged. We are all willing to do that," he added.
"But my taking up a place for another few months is just delaying the future for someone else. "
(AFP)