---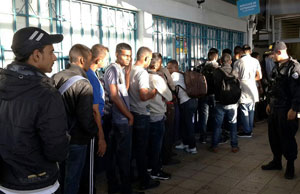 Costa Rican National Police officers on Monday detained a group of 23 undocumented migrants, including two Sri Lankans while attempting to enter the Central American country-Costa Rica from Panama, The Tico Times reported.
According to an official report, police encountered the group-19 Nepal nationals, 2 Sri Lankans andtwo from Ghana -walking along a road in the border community of Paso Canoas, near a customs checkpoint.One man fled the scene.
The group was sent to a local Immigration Administration office for further investigation, according to the Public Security Ministry.
Costa Rican police and immigration officials in October told The Tico Times they had noted an increase in the number of Asian migrants traveling though Costa Rica on their way north.
Prior to Monday's arrest, Immigration Administration records indicate that 54 Nepalese, one Pakistani and three Bangladeshi migrants were arrested while trying to enter the country.