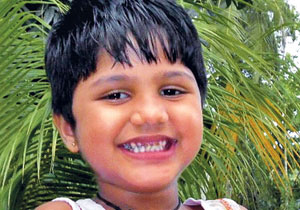 A Nawaloka Hospital pediatrician giving evidence at the inquest into the death of five-year-old Buddhini Kaushalya Ratnayake denied claims made by the parents that their daughter had died inside the MRI machine.
Pediatrician Dr. Duminda Pathirana said the child had died in the Surgical Intensive Care Unit (SICU) while being treated for Rett Syndrome.
Dr. Pathirana who had been attending on the child since her birth informed Colombo Fort Magistrate that he was not inside the MRI scanning room on February 1 and said he had only recommended the child be referred for a MRI test.
"When the child was brought to the MRI scanning room, I was not there. I do not know anything about it. I was in the Out Patient Department and further learnt that the child was suffering from sudden Cardiac Arrest symptoms.
Dr. Pathirana further told Court that he recommended the patient to be referred for a MRI test following a discussion with other neurologists in the hospital.
He said the child was alive when taken to the SICU and he subsequently observed that her body was not cold and had not turned blue. The child specialist further told Court that the child was pronounced dead in the evening of February 6 after brain and heart failure.
The mother of the five-year-old had earlier alleged that her daughter was put into the MRI machine and when her daughter was pulled out from the machine, she saw, her daughter had turned blue and the belly was swollen.
Counsel RavindranathDabare and RushankaSamaranayakeandJayantha Dias Nanayakkara appeared for the aggrieved party. President's Counsel C.R. de Silva, ChinthakaRankothge, R.J. de Silva and DarshanaWeerasekara appeared for Nawaloka Hospital.
Further magisterial inquiry was postponed for March 11.
(Lakmal Sooriyagoda)

Click

HERE

for images