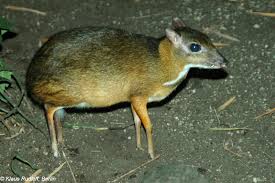 13 mouse deer (Chevrotains), considered endemic species, died on Monday night due to an attack by a pack of stray dogs that entered through a hole on the Dehiwala zoo parapet wall, according to the employees.
The veterinary surgeons who performed the autopsy on the dead animals said that the chevrotains succumbed to the injuries caused by savagery. These animals are said to be very sensitive and innocent.
Due to construction works being carried out in the Zoological garden, the dogs strayed into the garden to eat the animal feed, pose a threat to the animals' lives as well as to their health, the employees said.
The chevrotains are kept adjacent to the area where the elephant show takes place which is insecure and security officers do not pay much attention to this shortcoming. As a result, death of animals has increased, said the officers-in-charge of the area.
In spite of the fact that the journalists had made attempts to contact the Deputy Directress of the Zoological Gardens, Dhammika Malsinghe and the Director, Anura de Silva, their attempts were proved futile.
(Suranjan Perera and Indika Manoj Cooray)