---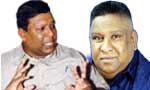 Former Badulla District MP Laksman Seneviratne will be sworn in as a member of parliament filling the vacancy created by MP Chamara Sampath who was sworn in as Uva Province chief minister, SLFP General Secretary and Minister Duminda Dissanayake said today.
"Mr. Seneviratne is the next in line in the Badulla District UPFA list," he said.
Mr. Sampath was elected to parliament from the Badulla District on UPFA ticket and secured 64,418 preferential votes coming second in the list. Three UPFA MPs were elected from from Badulla. However, former Mr. Senaviratne who was fourth in the list of preferential votes couldn't make it to parliament
Mr. Senewiratne served as Sugar Industries Minister in the previous government. He is expected to take his oaths no sooner his name was gazetted as an MP.
(Darshana Sanjeewa)