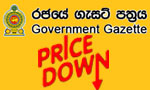 The relief on essential items and cement, given by the recent interim budget will be gazetted tonight, Industry and Commerce Minister Rishard Bathiudeen said today.
"We are implementing President Maithripala Sirisena's promise to give relief to consumers as announced by Finance Minister Ravi Karunanayake in his recent interim budget," the Minister said.
Accordingly, the Consumer Affairs Authority is gazetting on February 19 the revised prices - cement (ordinary Portland, Portland limestone and masonry cement) Maximum Retail Price (MRP) Rs 840 per 50 Kg Bag. Also gazetted are Bread (54 for 450 grams), White Sugar (unpacked) at Rs. 90 per kg, Milk powder 400 Grams 325 (and 1 Kg at 810), Sustagen 400 grammes tin Rs. 1500, unpacked wheat flour 90 per Kg, green gram Rs. 280 per Kg, sprats Rs 525 per Kg, canned fish Rs 260 per 425 grams, coriander in crust form Rs. 348 per Kg, black gram (undu) 285 per Kg, maldive fish 1740 per Kg, turmeric uncrust 265 per Kg and chillies (crust) 350 per Kg.