---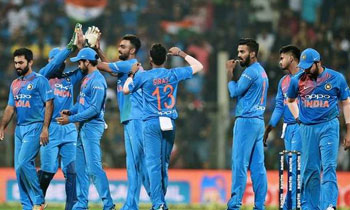 Four people were arrested in Mumbai on Monday for allegedly accepting bets on the India–Sri Lanka cricket match on Sunday night, the Hindu reported today.
They were arrested during a raid jointly conducted by the Khadakpada Police and the Thane Crime Branch in a residential building on Gandhari Road in Kalyan.
"We received information that a gang with international links was operating from one of the flats. Four suspects were detained and 15 cell phones, two laptops, six notebooks and 100,000 Indian rupees in cash were recovered," an officer with the Thane Crime Branch said.
The suspects, identified as Hiralal Talreja, his son Kunal, his brother Mahesh Talreja and their associate Kamlesh Lakhiyani, were taken to the Unit III office of the Thane Crime Branch.
The call records of the cell phones were examined and the police found that the four had consistently been taking calls from various parts of the State for the entire duration of the match.
The four were questioned and after preliminary inquiries, the police booked them under the Maharashtra Gambling Act, Indian Telegraph Act and the Information Technology Act.
"The accused would accept bets from punters based in Thane district and neighbouring areas, and place bets through an online portal. An analysis of their call records has revealed that they made numerous calls to a Dubai-based number registered to one Jatin at frequent intervals. We suspect that their leader is based in Dubai and was communicating the rates to them based on developments in the match," the officer said.
The police are also working on identifying the people who placed the bets. The police have received inputs to indicate that the arrested quartet is part of a larger network of bookies, which accepts bets on ongoing cricket tournaments.