---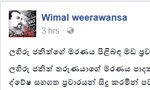 Rejecting the comments made on social media against his family in connection with the death of a youth, who was a close family friend, MP Wimal Weerawansa said it was appalling to note that his political rivals were trying to score points through such an unfortunate tragedy.

In a Facebook post Mr. Weerawansa stated that the youth Lahiru Janith, was his neighbor and a close friend of his son and was a frequent visitor to his house.

"He was at my place on the day of his death and I was out of the city. Group of my son's friends including Lahiru had watched a movie after the dinner and had gone to sleep. Unfortunately, he had died at my place the same night," he said.

Mr. Weerawansa said several political enemies are trying to frame my family by misinterpreting this incident even after releasing the postmortem examination as the youth died at his residence.
"In the postmortem report it was clearly mentioned that this youth died of natural causes and it was from a heart attack. His body parts have also been forwarded to the Government Analyst to find the reason behind his heart attack, "he said.