---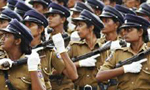 Measures would be taken to allow women to hold the post of Deputy Inspector General of Police, a higher rank than the current Senior Superintendent of Police, women are allowed to hold in the Police Department, the National Police Commission said today.
NPC Secretary Ariyadasa Cooray said there were 11,000 women employed in the force as of now and that they could only legally be appointed to the position of SSP.
Speaking of the women in high ranking positions in the Police, Mr. Cooray said that there were only two SSP positions for women at present.
When questioned if a woman could ever be the appointed Inspector General of Police, members of the Commission said the current situation in the Police force did not allow such an appointment.
However, they did not rule out the probability of such an appointment far in the future.
Meanwhile, the commission said nine women ASPs had been appointed in each of the Provinces in the country to address issues of Police women.(Darshana Sanjeewa)