---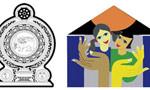 MP Wimal Weerawansa's daughter today complained to the National Child Protection Authority (NCPA) saying she was being mentally harassed by false accusations made against her by several social media websites.

She was accompanied by her mother Shashi Weerawansa and lawyer Premanath Dolewatta.
Mr. Dolewatte told journalists that it was completely unethical and illegal to mentally harass a 15-year-old girl in connection with the unfortunate death Lahiru Janith who was found dead at Mr. Weerawnsa's residence last week.

"Several social media websites have made baseless allegations against Mr. Weearwansa's daughter compelling us to lodge a complaint the teenager is hesitating to attend the school. Such baseless allegations are a disgrace to the dead youth also," he said.

Mr. Dolewatte urged the websites to refrain from taking political advantage from an unfortunate incident. (Kalathma Jayawardhane)