---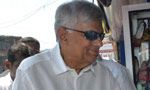 Prime Minister Ranil Wickremesinghe today said the desire of the present government is to ally with any political party including the Tamil National Alliance (TNA) or Janatha Vimukthi Peramuna (JVP) for the betterment of the country.
Speaking during the United National Party (UNP) membership drive in Badulla, Mr Wickremesinghe said others will go against the government if one party tries to implement development work on its own.
"We have formed a national government to ally with everyone to prevent anyone from going against us. All partners in a national government have the ability to share both good and bad," he added.
"Ministers Nimal Siripala de Silva and Harin Fernando have got into the same cabinet after being logger heads with each other in the past. Our desire is to bring all political opponents together," he further said.
"Some question us on our performance during the first year in office. We did not take over a Singapore or a Dubai but a land which is rampant with theft and corruption. This land was isolated and was perceived to be a land of murderers. But now the world had taken a positive turn towards Sri Lanka thanks to Minister of Foreign Affairs Mangala Samaraweera," he added.
Further, he said a new sophisticated generation should take over UNP. "Those sophisticated people who work with mobile phones and lap top computers should take over the party," he said.
The Prime Minister pledged to make Mattala Airport active with a movement of 50 aircraft from it daily. He pledged to develop the tourism industry. " A vast tourism zone will be set up by merging Hambantota, Galle, Arugam Bay and Badulla," he said
Minister of Digital Technology Infrastructure Development Harin Fernando who also spoke during the membership drive programme pledged to provide tabs for the youth in Badulla. (Palitha Ariyawansa, Yohan Perera and Prasard Rukmal)