---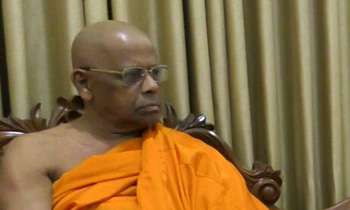 The Mahanayake of the Asgiriya Chapter Most Ven. Warakagoda Gnanarathna Thera said on Tuesday that Western countries should not infringe on Sri Lanka's internal matters.
The prelate expressed these views when Buddha Sasana Affairs Minister Udaya Gammanpila called on the Thera.
The Ven. Thera said following the change of the Government, it was now possible to save many resources that were about to be surrendered to the foreign countries.
"Western forces had become displeased over the sudden political change happened in Sri Lanka without their knowledge and we have to confront strong foreign forces such as the USA, India and Europe and therefore we should not engage clashes over minor matters within the country," Minister Udaya Gammanpila said.
He said the process of appointing Mahinda Rajapaksa as the Prime Minister was done very secretly and it was not known even to his family.
"These foreign forces do not recognize our Government and engage in doing all that they can do to obstruct the Government and our aim is to strengthen our power through an election. The President has decided to hold an election to show peoples sovereignty under the democracy.
Minister further said that UNP was able to get only 29.65 per cent of votes which shows 70 per cent of people opposing them and they were attempting to divide the country into nine through a federal constitution which was to be presented in parliament on 07 November. However, this attempt was thwarted with the prorogation of the parliament.
The Anunayake of the Asgiriya Chapter Ven. Anamaduwe Dhammadassi Thera said in the recent past there was instability in a country over some matters and movement of parliamentarians to and fro and it is a matter for regret to see them changing the parties.
"Changes for the monetary gain is inappropriate unless it is on policy matters," he said.
"This change has averted the transferring of nation's assets to foreigners. We all should unite to achieve the full benefit of the change without leaving the opportunity for the rivals, he said.
The Minister also visited the Dalada Maligawa and received the blessings. The Kandy Buddhist Affairs Commissioner Parakrama Jayawardena were also present on the occasion.
The Minister also visited the Malwatte Chapter Maha Nayake Most Ven. Thibbatuwawe Sri Siddhartha Sumangala Thera. (Nadeeka Daya Bandara)