---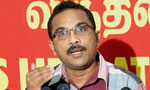 The Janatha Vimukthi Peramuna (JVP) said today said it would request the Office of Missing Persons (OMP) to investigate the abduction and killing of party's founder leader Rohana Wijeweera, senior member Upatissa Gamanayake and the mass grave in Matale.
JVP MP Bimal Ratnayake told a media briefing that his party would make the request even though the OMP might not live up to expectations.
"Our founder leader was abducted and was ordered to make a public statement on television. Later it was reported that he was killed. But no one knows where he was buried. The situation is same when it comes to Gamanayake," the MP said.
He made some serious charges with regard to the investigations on the mass grave in Matale and pointed out that the remains of those who were buried in this grave had been tampered with. "Tampering has been done when the remains, on a court order, were sent abroad for further investigations," he said."We are not sure whether OMP will mete out justice to the relatives of the missing persons."
He highlighted the fact that the government had failed to look into the issue of disappearances in a broad manner with the truth and reconciliation commission, and the commission against discrimination as proposed by his party set up together with the office of missing persons so as to prevent any disappearances and extra judicial killings in the future. "The government should have given priority to the truth and reconciliation commission and the commission against discrimination rather than the setting up of the OMP," Mr Ratnayake said.
He said the OMP might well end up like the commissions in Argentina, Guatemala, and Chile which were failures. (Yohan Perera)