---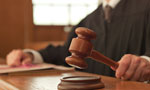 Colombo Chief Magistrate today issued arrest warrant on MG Dhanushka over not appearing before Court for the inquiry against him for violating Intellectual Property Act by singing the late popular singer MS Fernando's songs illegally without obtaining permission from the original copyright owner.
Earlier, Complainant Sarath Fernando son of the late Mr. fernando had lodged a complaint with CID alleging that the suspect had breached rights of MS Fernando by singing songs belonging to Mr. Fernando illegally.
However, on an earlier occasion the two parties had agreed to settle the matter and report to court today.
The suspect, MG Dhanushka was not present today when the case was taken up for consideration.
The complainant alleged that according to the Intellectual Property Act, the publishing rights of the late Mr. Fernando's songs belong to his family members until 70 years following the death of Mr. Fernando.
The CID said that the suspect had not obtained any permission from Mr. Fernando's family to use songs belonging to late MS Fernando. (Shehan Chamika Silva)