---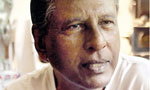 Veteran filmmaker D. B. Nihalsingha passed away this afternoon at the age of 77. Mr. Nihalsingha who was born on May 27, 1939 was last year conferred with the title of 'Professor in Cinema and Television' - the only Sri Lankan to be honoured with the title.
Mr. Nihalsingha who made award winning movies like Welikathara, Maldeniye Simion, Kelimandala and Ridee Nimnaya was the pioneer who introduced cinemascope film technology to Asia, the first cameraman who used hand-held camera for film shooting in the Asian region and the first who introduced colour tele dramas to Sri Lanka.
Last year he embarked on a commendable deed by devising a four-year degree course on film and television at the Kelaniya University. He was the only Sri Lankan to have had hands on experience in world's largest fully digitalized film and television station in Malaysia.
He made the country's first tele serial 'Dimuthu Muthu' and followed it up with 'Rekha' and was the founding CEO and General Manager of the National Film Corporation from 1972 to 1978.
Mr. Nihalsingha's parents were legendary journalist D.B. Dhanapala and the late Rathi Dhanapala. His brother was veteran photo journalist D.B. Suranimala.
D. B. Nihalsingha will be remembered for his outstanding contributions to the field of arts as one of the few talented filmmakers, a superior cameraman, high class administrator in the cinema industry, a pioneer in introducing new technology and a teacher who produced local and international cinema and television professionals.
The funeral will take place at 10 am on Sunday, April 24 at the Borella General Cemetery.
Remains will lie at his residence No. 30/22, Malalasekara Mawatha (Longden Place), Colombo 7. (RU)