---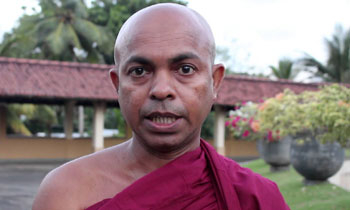 The Jathika Hela Urumaya (JHU) said today that Ven. Aturaliye Rathana Thera cannot work with President Maithripala Sirisena if he opted to function independently in Parliament.
JHU co-chairman Ven. Hadigalle Wimalasara Thera said if Ven. Rathana Thera criticized the government and functioned independently in Parliament he could not work with the President as he was the head of the government who is responsible for all matters.
The Thera said this in response to a question raised by journalists whether the JHU was taking disciplinary action against Ven. Rathana Thera as he was working with the President.
"We are also working with the President. He is the head of the government," he said.
The Thera said Ven. Rathana Thera had not informed the JHU of his decision to function independently in Parliament and added that he should resign from the post of MP if he wanted to do so.
"Ven. Rathana Thera was nominated as a national list MP of the United National Party. We have an agreement and he has agreed to work according to the rules and disciplines of the JHU. He has agreed to resign from the post if he was to function independently," the Thera said.
Ven. Wimalasara Thera said the JHU had informed its stance to Ven. Rathana Thera following a discussion with the JHU Central Committee and was expecting his response to take further action.
He said it was the responsibility of the MPs to fulfil the aspirations of the people who elect them.
JHU national organiser Nishantha Sri Warnasinghe said everyone should abide by the rules and regulations of the party when taking decisions.
Referring to the SAITM controversy, he said it was time the government took a policy decision regarding it. (Ajith Siriwardana)