---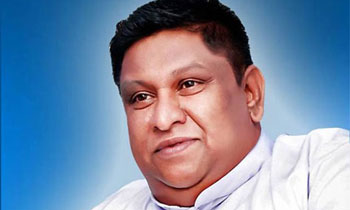 Uva Province Chief Minister Chamara Sampath Dassanayake today reported to the Human Rights Commission of Sri Lanka (HRCSL) for an inquiry into the incident where he is alleged to have forced the Badulla Tamil Girls' School Principal to kneel in his presence.
The HRCSL launched the inquiry based on two complaints -- one lodged by Centre for Human Rights and Research (CHR) Executive Director Keerthi Tennakoon and the other by Ceylon Teachers' Union (CTU) President Joseph Stalin.
HRCSL had earlier recorded statements from the Uva Province education authorities and the school Principal on the incident.
Mr. Tennakoon told the media that Chief Minister Dassanayake, who had forced the principal to kneel, had today knelt before the people's court.
"The Chief Minister attempted to dodge the HRCSL summons. This incident which has become a national issue saw many protests staged against the unacceptable action of Mr. Dassanayake. Protests will continue until justice is meted out," he said. (Kalathma Jayawardhane)