---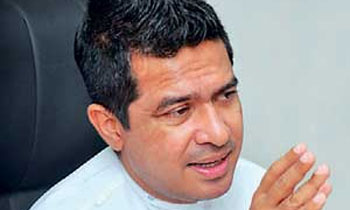 While rejecting reports that he would quit the UNP, State Minister Sujeewa Senasinghe yesterday said he would resign from the post of party electoral organiser if party did not undergo drastic and immediate changes.
He said UNP MPs including Ministers Ajith P. Perera, Harsha De Silva, Ruwan Wijewardene, Ranjith Maddumabandara, UNP General Secretary Minister Kabir Hashim and himself held similar views on this matter.
Meanwhile, he said they were invited by President Maithripala Sirisena to a meeting.
"We, the UNP MPs, are still in the process of discussing the changes among ourselves, but the MPs couldn't meet prior to the meeting with the President. Therefore, I personally visited the President and informed him that we were unable to attend the meeting. I only went to convey the message about which I also briefed General Secretary Hashim later on. There is no truth in the reports that I have decided to join other parties," he told Daily Mirror.
The state minister said after a meeting with the UNP MPs, they had informed party Leader and Prime Minister, Ranil Wickremesinghe about the need for changes in the party.
"On many previous occasions we have been promised changes, which have never been made. The Prime Minister agreed to this and assured that effective changes will be made. We do not need the appointment of committees or leadership committees. What we need are drastic changes which will have a positive impact on the party immediately. The next leadership of the party must be decided soon ," he said.
Meanwhile, the State minister said he would resign from the post of party electoral organiser in the event these changes were not carried out.
"I won't leave the party to join another but if the necessary changes are not made in the future, I may resign from my post. I will serve the people for the next three years because I have been given the second place in Colombo at the previous general election," he said. (Lahiru Pothmulla)