---
After superstar Rajinikanth called off his proposed visit to Sri Lanka after facing opposition from Tamil fringe groups, Lankan politician Namal Rajapaksa, who happens to be the son of former president Mahinda Rajapaksa, has expressed his displeasure towards the entire development.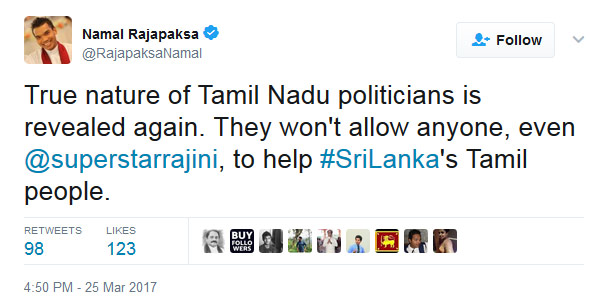 The superstar's decision came after he met with opposition from pro-Tamil outfits in his state.
"VCK chief Thirumavalavan and MDMK chief Vaiko urged me not to visit Sri Lanka. I accepted their request because of cordial relationship," he said.
He was scheduled to formally present keys to 150 homes built by Gnanam Foundation for the internally displaced Tamils in the island nation.
However, the visit was opposed by the Viduthalai Chiruthaigal Katchi (VCK) and Marumarlarchi Dravida Munnetra Kazhagam (DMDK). Gnanam Foundation has been focusing on re-building infrastructure in the key areas of Sri Lanka which were badly affected in the civil war that took place around three decades ago. (ANI)