---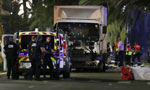 An attacker killed at least 73 people and injured scores when he drove a truck at high speed into a crowd watching Bastille Day fireworks in the French Riviera city of Nice late on Thursday, local media quoted officials as saying.
Police shot and killed the driver, who drove the heavy, long-distance truck at speed for well over 100 meters along the famed Promenade des Anglais seafront, hitting the mass of spectators late in the evening, regional official Sebastien Humbert told France Info radio.
The man had opened fire on the crowd, local government chief Christian Estrosi told BFM TV, and weapons and grenades were found inside the truck after he was killed.
"It's a scene of horror," local member of parliament Eric Ciotti told France Info, saying the truck had sped along the pavement fronting the Mediterranean, before being stopped by police after "mowing down several hundred people".
Local broadcasters quoted officials as saying the preliminary death toll was 73. Other officials put the number of wounded as high as in the hundreds.
Humbert described it as a clear criminal attack, although the driver was not yet identified. Residents of the Mediterranean city close to the Italian border were advised to stay indoors. There was no sign of any other attack.
Almost exactly eight months ago Islamic State militants killed 130 people in Paris on Nov. 13, the bloodiest in a number of attacks in France and Belgium in the past two years. On Sunday, France had breathed a sigh of relief as the month-long Euro 2016 soccer tournament ended without a feared attack. (Reuters)