---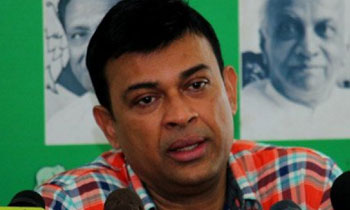 Deputy Minister Ranjan Ramanayake today said he was ready to prove that those in the United National Party (UNP), Sri Lanka Freedom Party (SLFP) and the Joint Opposition (JO) had been engaged in corruption during the recent past.
"I am ready to prove the point I made during my recent speech in Parliament that there are thieves in the main parties, UNP, SLFP and JO and stand by the allegations I made in the House," he said.
"Both the President and the Prime Minister inquired me about the speech I made in Parliament and I leave it for them to decide on my fate," he said.
Parliamentarian Ramanayake said in Parliament during the last sessions that both the Government and the Opposition were trying to defend the corrupt.
There was a report in the social media that the Government seniors had asked the Deputy Minister not to oppose those who were in their own camp.
He mentioned that some seniors also had inquired from him about the speech he made in Parliament. (Yohan Perera)