---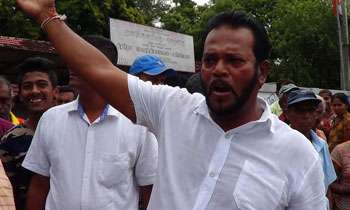 A tense situation prevailed outside the Galewela District Hospital today when Deputy Minister Palitha Thewarapperuma forcibly attended a rehearsal by the hospital authorities to make people aware of dealing with road accidents.
The Galewela Divisional Secretariat, the Disaster Management Centre in Matale and the hospital had organised this rehearsal and they had simulated a road accident where two buses had collided and ten people were injured.
The deputy minister who was on his way to Polonnaruwa had witnessed the incident and had volunteered to take the injured to hospital in his official vehicle.
Only then had he had got to know from the official at the vicinity that it was a rehearsal.
The deputy minister had turned furious and slammed the officials for making fun of such incidents when the country was facing in the throes of major floods.
He had ordered the organisers to hold such rehearsals indoors and vowed to take legal action against them.
This resulted in the hospital authorities deciding to call off the rehearsal. (Mohamed Buharrudeen)