---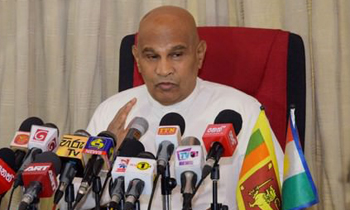 Northern Province (NP) Governor Reginald Cooray said today that Tamil politicians in the North were being provided security by Sinhala Police officers as they could trust them.
"We should find out the reason why they are not trusting Tamil Police officers," the Governor said at an event in Jaffna, where a boat-transport service, that could accommodate 40 passengers, was launched between the Eluvaithivu and Analaithivu islands from the Karampon Ferry in Kayts.
The ferry service will facilitate the transport of people who are living in these areas, with the assistance of the Sri Lanka Navy.
He said that Rs. 132 million had been allocated for this programme by the office of the District Secretary, Jaffna.
District Secretary N. Vedanayagam, Private Secretary to Governor J.M. Somasiri, Governor's Secretary L. Ilangovan, Rear Admiral Jayantha de Silva of Northern Province and residents of Eluvaithivu and Analaithivu attended the event. (Romesh Madushanka)